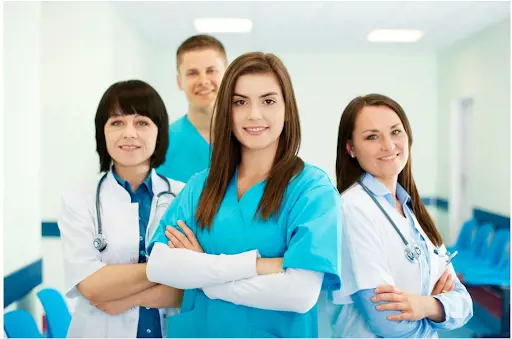 Why Choose Government Nursing Colleges in Chandigarh for Your Nursing Education?
Navigating through a number of nursing colleges can be daunting, raising concerns about resource constraints, inexperienced faculty, and insufficient practical exposure, which may cast doubt on your nursing career goals. Nevertheless, there is a more promising approach.
Imagine a government nursing college in Chandigarh, where excellence and opportunity go hand in hand. These colleges, equipped with cutting-edge facilities, renowned faculty, and a dynamic curriculum, prepare you for the healthcare industry's challenges.
Choosing a GNM govt college in Chandigarh or a government nursing college in Chandigarh opens doors to comprehensive education, practical training in reputable hospitals, and a nurturing environment that fosters personal and professional growth.
Reputed Organizations
Government nursing college in Chandigarh is synonymous with excellence, thanks to the presence of highly reputed organizations that impart knowledge and shape the future of nursing professionals. These colleges boast a faculty of highly qualified and experienced professionals who bring expertise to the classroom. These educators have specialized knowledge in various nursing domains, ranging from medical-surgical nursing to psychiatric nursing, community health nursing to pediatric nursing.
The faculty members in the government nursing college in Chandigarh have a deep understanding of their respective fields, allowing them to provide comprehensive education and guidance to students. Their expertise ensures that students receive the most up-to-date information and develop the necessary skills to excel in their nursing careers. With their guidance, students can delve into the intricacies of different nursing specialties, gain a deeper understanding of patient care, and explore emerging trends in the healthcare industry. The presence of such reputed organizations in Chandigarh's nursing colleges adds immense value to the education and training received by aspiring nurses.
Diverse Clinical Exposure
One of the standout advantages of GNM govt college in Chandigarh is its diverse clinical exposure to nursing students. Chandigarh is home to many prestigious hospitals, healthcare facilities, and medical institutions, providing students with a rich and varied learning experience. Students can gain practical exposure by working in renowned hospitals, multispecialty centers, and research institutions.
Nursing students can observe various medical cases, enhancing their critical thinking abilities and allowing them to apply their theoretical knowledge in practical situations. They can collaborate with seasoned healthcare professionals, benefiting from their wealth of experience and gaining insights into the intricacies of patient care. Through exposure to various healthcare environments and engaging with patients from different backgrounds, nursing students in Chandigarh develop the necessary skills, confidence, and adaptability to excel in their future nursing professions.
Safe and Clean Environment
Government nursing colleges in Chandigarh boast state-of-the-art facilities and infrastructure, creating an optimal learning environment for students. These colleges provide a conducive atmosphere for academic growth, equipped with modern classrooms, well-stocked libraries, and advanced technology. Additionally, students benefit from well-equipped laboratories and simulation centers, where they can practice and refine their nursing skills in a controlled and realistic setting. The emphasis on maintaining a clean and hygienic environment further ensures that students can focus on their studies without compromising their health and well-being.
Student Support Services
GNM govt college in Chandigarh understands that a nurturing and supportive environment is essential for the holistic development of nursing students. That's why they offer comprehensive student support services to ensure students have all the necessary resources to succeed. These colleges provide comfortable hostel facilities, allowing students to reside on campus and foster a sense of community. Counseling services are also available to address any personal or academic challenges that students may face, providing guidance and support when needed.
Moreover, government nursing colleges in Chandigarh offer career guidance programs to help students explore their professional goals and make informed decisions about their future. These programs assist students in identifying potential career paths, providing valuable insights into the nursing industry, and helping them chart a course toward a successful nursing career. Extracurricular activities and sports facilities are also offered to encourage a healthy work-life balance and allow students to pursue their interests beyond the academic realm. With these student support services, government nursing colleges in Chandigarh prioritize their students' well-being and overall growth.
Career Opportunities
Chandigarh's thriving healthcare sector provides abundant career opportunities for nursing graduates. The city has numerous hospitals, nursing homes, and healthcare organizations, creating a robust job market. The demand for nurses continues to grow, offering graduates various career paths. Whether in specialized fields such as critical care, oncology, community health, or research and academia, Chandigarh opens many possibilities. The city's reputation for excellence in healthcare further enhances the employability of nursing graduates, making it an ideal destination to launch a successful nursing career.
Phoenix Nursing Institute: The Best Government Nursing College in Chandigarh
The government nursing colleges in Chandigarh present a remarkable chance for aspiring nurses to acquire a superior education, invaluable hands-on experience, and solid groundwork for their professional goals. These colleges boast distinguished faculty, diverse clinical exposure, state-of-the-art facilities, comprehensive student support services, and abundant career prospects, creating an environment that fosters excellence in nursing education.
Among the esteemed government nursing college in Chandigarh, Phoenix Nursing Institute stands out as a symbol of excellence and innovation. Committed to providing comprehensive education, practical experience, and holistic student support, we prepare students to thrive in nursing. With our highly qualified faculty, diverse clinical exposure, state-of-the-art facilities, and robust career opportunities, Phoenix Nursing Institute embodies the essence of a premier nursing education institution. Prospective nursing students are encouraged to consider Phoenix Nursing Institute as their gateway to a fulfilling and successful nursing career.