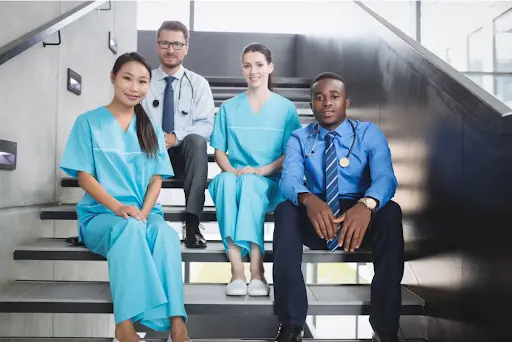 Everything You Need To Know About GNM Nursing Course Details
As an ambitious student, you are probably searching for the best career path to achieve your goals. The different options presented can be overwhelming, but you can keep your career on track with the right guidance. Today, we will discuss the details of the GNM Nursing Course, from GNM Nursing's application form to career prospects.
An Overview of the GNM Nursing Course Details
The General Nursing and Midwifery (GNM) nursing course is a three-year program that is divided into six semesters, each covering various subjects related to nursing and healthcare. It is intended to make one ready for a professional career and includes practical knowledge as well as theoretical.
There is a mandatory internship at the end of the three years, making the program a total of 3 and a half years.
Scope of GNM Nursing Course
Nursing is a noble profession that requires compassion, empathy, and a commitment to helping others. It is a career that demands emotional and physical strength, but the rewards are immeasurable. Nurses are the backbone of the healthcare system, providing vital support and care to patients in various settings, from hospitals to nursing homes, clinics, and even patients' homes.
The scope of career opportunities after completing a nursing course is vast and diverse. Here are some of the most common career paths for nurses:
Registered Nurse (RN): RNs work in a variety of settings, such as hospitals, clinics, and long-term care facilities, providing direct patient care, administering medications, and monitoring patients' conditions. RNs can also specialize in pediatrics, critical care, or oncology.
Nurse Practitioner (NP): NPs are advanced practice registered nurses who provide primary and speciality care to patients.
Nurse Educator: Nurse educators work in academic settings, such as colleges and universities, teaching nursing students the skills and knowledge they need to become successful nurses.
Nurse Researcher: Nurse researchers work in various settings, such as hospitals, universities, and research institutions, conducting studies and research on a range of healthcare-related topics, from treatments for diseases to healthcare policies and practices.
Eligibility Criteria for Pursuing GNM Nursing Course
To be eligible for the GNM nursing course in India, a candidate must have a minimum educational requirement of passing 10 + 2 with a minimum of 40% in Science.
The Curriculum of the GNM Nursing Course
The basic curriculum includes subjects such as:
Microbiology: This subject covers the study of microorganisms, including their structure, function, and effects on the human body.
Psychology and Sociology: This subject covers the study of human behavior, social norms, and mental health.
Fundamentals of Nursing: This subject covers the basic principles and techniques, including patient care, assessment, and management.
Medical-Surgical Nursing: This subject covers the care and management of patients with medical and surgical conditions.
Community Health Nursing: This subject covers the principles and techniques of nursing in community settings, including public health, health promotion, and disease prevention.
Child Health Nursing: This subject covers the care and management of children, including neonates, infants, and adolescents.
Gynecological Nursing: This subject covers the care and management of pregnant women, childbirth, and postpartum.
Mental Health Nursing: This subject covers the care and management of patients with mental health issues, including assessment, diagnosis, and treatment.
The Admission Process for the GNM Nursing Course
Once you have confirmed that you meet the eligibility criteria, usually based on your marks in 10 + 2, the next step is to apply. You can generally apply online or by visiting the institution's admission office and filling out a physical application form. Some institutions require candidates to take an entrance exam to assess their knowledge and skills.
Should You Pursue a GNM Nursing Course?
Whether or not you should pursue a General Nursing and Midwifery (GNM) course depends on your personal interests, goals, and career aspirations. Nursing is a challenging and rewarding profession that requires compassion, critical thinking, and the ability to work in high-pressure situations.
If you are interested in healthcare, enjoy working with people, and have a strong desire to help others, then pursuing a GNM course may be a great option. A GNM course will provide you with the necessary knowledge and skills to become a registered nurse and positively impact people's lives. It is important to note that nursing is a demanding and challenging profession. Nurses often work long hours, including night and weekend shifts, and deal with patients who are in pain or distress. It is crucial to carefully consider your strengths, interests, and lifestyle before pursuing a GNM course.
To Sum Up
A career in nursing is one of the most fulfilling and rewarding professions out there. With the GNM nursing course, you can lay the foundation for a successful and fulfilling career in the healthcare industry. This course offers a promising career and allows you to give back to society by providing quality healthcare services to those in need.
Still have doubts about admission to a good nursing college? Contact us here to learn more about how to get a successful career in nursing.